The Sydney, Australia portion of the trip was my favorite, personally. From the Sydney Opera House, Darling Harbour, Centre Point Tower, Town Hall, Bondi Beach, The site of the the 2000 Olympics, and all the manner of locations, Sydney has an individual feel and atmosphere in which it stands alone. Except for the occasional ten mile trek through the urban jungle of Sydney, everything was great. I would have done a lot to stay there a few extra days... Now, on to New Zealand.
---
For this plane flight, we were prepared. A number of us hit Macca's and/or KFC, and managed to bring halfway decent consumables onto the plane. It was a good idea, because dinner was this gross fish stuff. I wouldn't feed it to a homeless person.
Airplane food is bad. Period. It's always bad. I don't care what anyone says about losing one's sense of taste at high altitudes. The fact is, the greasy, unhealthy crap that is fast food still tastes exactly the same. And it's no secret that the "food" the airlines try to pass on as "nutrition" to their passengers is served for the sole purpose that it costs pennies (thus racking up profits for the airlines for each individual ticket). Just think, every less penny they have to spend actually providing you with real butter is more change in their coffers. I wish I owned an airline...
There's not much I can say about New Zealand. Sure, it was great and all, but after Sydney, it was kind of...errr...boring? After all that urbania, returning to the countryside was a letdown. Our tour guide was Julia. Oh, it was colder too. I remember one hotel where Robby found this little gray box on the floor. I thought it was a high tech trash can. It was the heater. This tiny 10 x 10 inch cube had to heat our hotel room. Believe me, it didn't. We just turned it off, and turned the television on, because the TV generated more heat than the heater.
Fact: Sitting on a rock situated above an underground hot spring warms your derriere. Too bad the smell of sulfur repels anyone wanting a quick and easy natural heating pad.
We visited the Maori Cultural Center at the Whakarahoweveryouspellitsayitargh geothermal area and received enlightenment about Maori culture, as well as observe several erupting geysers. In one of those crystal clear, pure water hot springs (at over fifty plus degrees C), two members of the center cooked corn on the cob, which tasted delicious. No additives, no preservatives, no artificial coloring. 100% corn, with a bit of butter. 'Twas excellent, though I wonder how a 12 oz. steak cooked in there would taste. That night, we attended a Maori Hangi feast at the Lake Plaza Rotorua Hotel. On a side note, I lost my Casio watch that night after swimming. I called the Hotel the next day from my homestay home, and received assurance that they would find it and send it back to me. A few days after we returned, my watch arrived in the mail, safe, sound, and working, with no return bill. Another little gold star goes to Ann Henderson and the rest of the housekeeping staff at the Lake Plaza Rotorua Hotel for being so efficient and courteous. If I ever visit New Zealand again, I will be sure to look up the Lake Plaza at Rotorua.
WERD to the staff at the hotel. Returning my precious watch to me safe and sound was a true gesture of hospitality. The sad thing is, I lost that watch in Fashion Island in Newport Beach sometime last year while shopping. A gift from my Dad's youngest brother (that would be my uncle) over 10 years ago, that little Casio watch was my constant companion from elementary school up to college.

The first of the group to head out...the blonde chick with the stupid expression on her face is our oboe player, Melanie Poll =).
We had two concerts in New Zealand. The first was at Cambridge High School. The second was with the North Shore Youth Symphony at Carmel College. In what had to be the longest concert program in existence, Irvine Youth Symphony, us, and the North Shore Youth Symphony all performed. We combined at the finale to sight-read "Broadway on Parade." Yay. Then we had dinner. Kind of. At this potluck, I didn't manage to eat very much. But later, we called "Pizza Haven" and had two large pizzas delivered, for only $20 AUS. Many thanks to Mr. Corzine for an excellent joke: "Excuse me sir, but several people in the bar have eaten your pizza and charged it to your room..."
Fact: That (nice) cello player from Irvine Youth Symphony, whom we have taken to calling "bluehair" because of her hair color preferences is named Jeanette. =)
Okay, here's my turn to gripe: Don't play "Bugler's Holiday" at 100bpm.
Of our pieces: I cannot express in words how much I like Tchaikovsky's Serenade for Strings. THIS was the piece that I wanted to play. Every time we brought it up I broke a few more bow hairs, pulling as much feeling out of it as possible. This is one piece I hope to play again in the future (if I ever take up violin to the extent that I used to).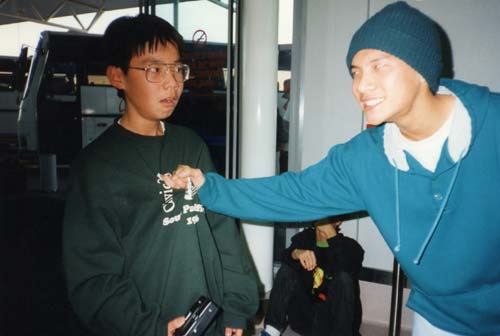 Some people thought I had a little too much fun on this trip. One of them is violinst Alan Ni, left.
I love this picture. I lost that hooded sweatshirt on at a hotel in Tuscon, AZ in an orchestra festival the following year. I don't know where that beanie went either. And Alan sure didn't stay that size...saw the bugger around '99 sometime and he was TALL. WOW.
A volcanic eruption occurred around 6pm the day we were supposed to leave. Funny, because we'd spent some time playing around inside the Mt. Eden volcano earlier (climbing up stinks!). The Civil Air Authority closed the airport at 7pm. Our flight was due to leave sometime around then, but was canceled. After re-entering New Zealand (gotta love pushing that paper), Qantas carted everyone to the Stamford Plaza, a five star hotel. For seven hundred passengers that night, Qantas spent $180,000 AUS. Dinner was great. The rooms were fantastic. A hotel which has a phone by the toilet, doorbells, bathrobes, and even cotton balls and cotton swabs must be good. Except for the TV. Television must not be that big a thing there, because we had a dinky little 13" unit. We had a short stopover in Tahiti on the way home, but other than that, our trip ended.
And was dinner great or what...We had like a 150AUS/NZ/whatever voucher for dinner. I spent this on a wonderful plate of boneless grilled trout on rice cooked in various herbs and spices. In fact, so many of us ordered all of the hotel restaurant's "good" food we left the staff with hamburgers and shoestring fries. And did I mention dessert? Ice cream and chocolates arranged like pieces of art on chilled plates.
So let's cover more of what happened that night. My roommate and close friend Robby took his hour in the shower. I took a long bath and a shower (the amenities were superb). Deciding that we were only going to sleep for like 3 hours or so, Katie Baber came over to hang out and all of us tried to decipher some of the more complex passages out of the Bible we found in one of the cabinets. There was one cabinet in particular that was stocked to the gunwhales with tiny liquor bottles of all kinds. Being good little kids, we ignored it and talked about random stuff until the sun rose and we had to leave.
Speaking of liquor again, two female members of our group decided to take on said cabinet (in their room). The next morning, 10 minutes before the bus for the airport left, our esteemed conductor and some other staff found the two completely passed out, surrounded by empty bottles. Hehehe. At least someone had fun on this trip...
One last thing I'd like to mention about Australia and New Zealand are the crosswalks. Here in the United States, our four way intersections usually have four crosswalks, right? Get this: New Zealand has the corner-to-opposite-corner crosswalk! In fact, when the "walk" light turns green, the street is flooded with people. All automotive traffic was replaced by hundreds of pedestrians swarming all over the place. And who can forget the lovely indicator sounds emanated by those crosswalk boxes? In Australia, it was "zwwwwwip! tiktiktiktiktiktiktik!" and in New Zealand, it was a rather annoying buzzer sound. Robby Walter mentioned that the programmer for these devices must have been from a video game company. Ahhhhhh, the memories.
So why don't we have things like that here for the blind? Oh wait, I forgot: drivers in southern california don't stop for red lights.
Fact: CYO totaled four performances on the trip. The first was at the Sydney Opera House, June 30th, 1996. The second was at Sydney Town Hall, July 1st, 1996. Next was a 4th of July concert at Cambridge High School in New Zealand, and finally, a joint concert on July 7th, 1996 with the North Shore Youth Symphony and the Irvine Youth Symphony.
I will always remember the last song I played as concertmaster of the Civic Youth Orchestra: The Kabalevsky Piano Concerto #3. Ironic, isn't it? We've only been playing orchestral backup on this piece in CYO for years and years and years. Also, I wish I had purchased more souvenirs while in Sydney. But nothing will beat my ultimate souvenir: my very own stuffed 'roo!
And if I had to replay my performances of Beethoven's Romance now...DAMNIT. I would've done things so completely differently. I had been so utterly blind to the subtleties of the music and what the piece demanded from its performer. Oh well, there's always next time, right? (Yeah right).
Over the course of this trip, I've managed to get to know most of the people in the orchestra fairly well (some a bit too well), some, more than others. Greetings go to Katie Baber (and of course, Jeremy), Robby Walter, Sinae Bang, Jenny Tucker, Mark Liu, Elliot Moreau, John Manganaro, Irene and Laura Taylor, Alan Ni, Emmeline Chuang, Jessica Wei, Evan Wong, Melissa Moore, Angel Sun, Matt Matolcsi, Michelle Marco, Victor Loh, Jason Magsalin, Lisa Gordon, Tanya Bakhru, Tamara Gilson, Melanie Poll, Cody Steele, and Stephanie Washburn, and everyone else whose names I don't quite remember right now. Also, thanks go to Mr. Gilson and the rest of the CYO staff for making this trip possible.
Hi everyone, where are all of you now? Email me! Even if you do think that we're mortal enemies and that I'm your arch-nemesis for some reason, forget about it. That was *so* high school...
Well, that's it. There's a number of events I've left out of here, for a number of reasons. If you have any comments/questions, or want to swap photographs, please contact me: gwieATsolscopeDOTcom.