San Diego Civic Youth Orchestra
1998 European Tour
Memoirs by Gene Wie, Principal Clarinet
Began 14 July 1998, Completed 01 February 1999
Revised February 2001, Photos May/June 2001
Greetings. Having just returned from CYOís Europe Tour and having all of the events that transpired still fresh in my mind, I take keyboard and mouse in hand to tell you, dear reader, about my personal experiences and opinions about our excursion across the Atlantic. It is now the day after Christmas, hence all my comments are in italics so you can tell what Iím writing now. I havenít looked at this journal for a long while. The first quarter of the new school year is over, and Iíve had lots of time to evaluate the impact of the tour on my life. Unfortunately, I think Iíve also forgotten many details and lost much of the excitement. The orchestra departed the United States on 27 July 1998 and returned on 13 June 1998. For seventeen days, one-hundred thirty-four musicians and support staff ventured through the central European countryside by bus, giving six performances in venues ranging from the Mozarteum in Salzburg, Austria to the Piazza Unita DíItalia in Trieste, Italy. Due to the fact that this document has been written over the course of many weeks as I organized my photos and souvenirs, some of the comments here may be incomprehensible. I hope you enjoy it. Before I go any further, Iíd like to take a moment to remember our friend and CYOís piccolo player, Mimi Bowles. Mimi left all of us and this world this past August, but not before leaving her own report on the tour. Thanks for the all the laughs, Mimi.
I began working on this document once I returned from Europe, but since school and work really caught up with me and I never had a chance to finish it. This summer I'm going to buy a scanner, dig through my album, and put them up here.
God bless you, Mimi. None of us is ever going to know why you decided to leave us in August of 1998. I can still recall the shock when Bob Gilson told me and Karen Crews when I was visiting to find some parts for an AYS audition. Yours was the first real funeral service I had to attend, and it was depressing beyond words. I'll also find time to dig up your Palomar Observer article on the tour and put it up here.
Day one and two were spent in transit. The orchestra was split into two separate flights, a large group of ninety or so left early, and a smaller group of thirty that departed several hours afterward. I ended up in the little group, hanging around in the airport for most of the afternoon. All I can say is that even though the flight was "only" nine hours long, it quickly became exhausting. Upon landing in Frankfurt, Germany, we had another couple hours in a layover before transferring planes to fly to Zurich, Switzerland. From Zurich, we endured a hellish three-hour bus ride to Meiringen. Though itinerary plans set the travel time to two hours, a blocked road resulted in a massive detour around the lakes in the region and set us at the hotel in the late evening. My room-mate, principal bassoonist Michael Muna and I ended up staying at the Sporthotel Sherlock Holmes with several groups of chaperones and only one other set of musicians. We ended up taking a quarter mile trek during the next several days to eat our meals and meet our friends at the Hotel Sauvage down the road. We were not happy campers, considering the previous flight hand landed hours before us, had dinner, and had time to roam around and relax. We, on the other hand, ate dinner after dark and immediately afterwards hit the sack. Dinner consisted of some strange avocado soup that didnít sit too well with my palate. And whatever meat was served, I had a hard time figuring out which four-legged critter it originated from. Whatever. I now appreciate the fact that this was the worst thing that happened to us on our tour. Imagine if things had gotten worse! I really enjoyed hanging out with everyone for hours and hours, but I know that we all eventually got on each otherís nerves as the night wore on. I remember a few of us sitting in the bus beating our heads on the windows out of sheer boredom and frustration.
That specific time was just not the time to experience "new" food. The soup was completely unpalatable. The "meat" was so out of whack for what we usually consider "meat" half of us couldn't even touch it. After being delayed for so long and enduring the worst detour in bus ride history, and arriving much later than the majority of the group, those of us in this little flight were....hmmm...perhaps more than a *little* bitter. Sure gave us time to bond though. Misery loves company.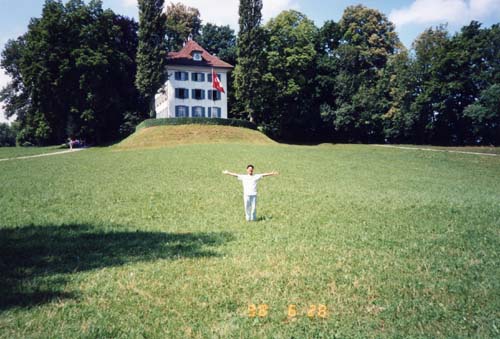 Wagner's back yard!
Day three began with a group meeting at a large hall next to the church we would be performing at in a few days. Our excursion through central Switzerland in the morning took us to Lake Lucerne and the Richard Wagner museum, the composerís home which also stores a collection of antique musical instruments. I managed to snag a few photos of the Albert system boxwood clarinets. We stopped in Lucerne for lunch and souvenir shopping. Of note was the Lion Monument, dedicated to the memory of the heroic fight and final defeat of Swiss Guards in 1792 in Paris. It was here in Lucerne that I discovered that the "CH" located on a number of vehicle licenses stood for "Confederatio Helvetica," the old name for collective kingdoms that made up old Switzerland. I picked up a nice faux cK t-shirt with cH on it, along with some very cheap Swiss knives from Bucherer. I hope everyone received that coupon for their free souvenir spoon! Tourist traps aside, touring Wagnerís home was one of my personal highlights of this tour as a musician.
It's so amazing how "old" Europe is. Standing around in places that existed before the USA did...wow!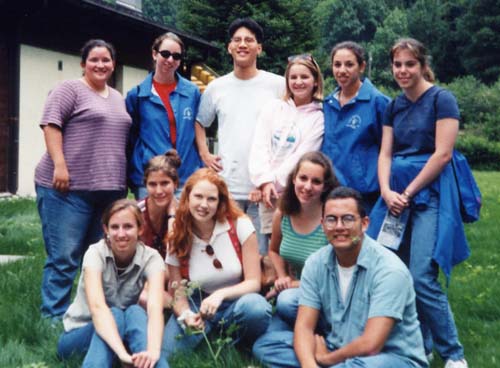 Top L-R: Erin Ybanez, Jennifer Peske, Gene Wie, Chelsea Long, Melissa Pina, Melissa Moore
Bottom L-R: Katie Baber, Carolyn Washburn, Lily Workman, Johanna Peske, Michael Muna
Day four saw the group visiting Aareschlucht gorge in the Meiringen Valley area, along with a short hike back to town before the eveningís concert at the church. I am certainly glad that we covered up decently for this outing. Sure, it wasnít cold enough to snow or hail or anything to that effect, but it was cold enough! Our program featured principal cellist Melissa Moore playing a concerto by Hadyn, principal bassoonist Michael Muna playing a concerto by Weber, and principal horn John Manganaro playing a concerto by Strauss, as well as Mozartís Impresario Overture and excerpts from the two Carmen suites by Bizet. This, our first concert in Europe, went very well. In fact, absent at our first rehearsal before the concert were all the mishaps that plagued the group on the Australia tour two years before.
I'm still amazed by how well this concert went.
Day five was a bus ride day. Yay! From Switzerland via Austria into Bavaria, the spectacular alpine scenery was missed by a good portion of the people on Bus C, who were fast asleep after staying up way too late the night before. A quick stop in Liechtenstein (and I do mean quick, try forty-five minutes, tops) was followed by a wonderful mile-plus hike up the side of a mountain to reach "Mad" King Ludwigís Neuschwanstein Castle. I lost five pounds on this tour, and I think Ludwig's castle accounted for a good fifty percent of that. Not being up to any major hiking previous to the tour (after all, I am a computer science major), this climb was taxing. I also ended up carrying tour bags for bassoonist Chelsea Long and trumpeter Melissa Pina (just to make sure I wasnít totally out of shape). It sure felt great to get to the topÖ In Oberammergau, several of us found a wonderful ice cream shop on the road leading to the center of town, just past the Hotel Stern, one of five which housed the orchestra. I must have purchased at least ten or so cones from that place, and Michael and others could have eaten that place dry given a couple more days. Itís little things like this ice cream stand that make these trips so personal and fascinating. Of course, the evening brought around a couple kids in the group running around near lights-out time being complete fools.
Okay, my fault for being a "guy" about it (the climb uphill to Neuschwanstein). I wish I was still in such a good a shape as I was then. Nowadays all I do is sit in front of a computer.
Ah yes, now is the time for "those" stories. Two of our dining partners (two violinsts whose names I will not mention), thought that Oberammergau would be a good place to stock up on some "adult" beverages, in defiance of CYO's own specific policy on "responsible drinking," especially where minors were concerned. While I really didn't care what they did, I just couldn't believe how OBVIOUS they made their activities. If you guys are reading this, I'm glad you're in college now, and hopefully have figured out how NOT to announce to the world that you're trying to hide your stash! "What are you guys doing in there taking so long to come to dinner?" "Uh, we're putting on our socks." Yeah, right. Whatever.
Day six led us to another one of Ludwigís castles, Linderhof, where Richard Wagner also lived and worked. The architecture of Linderhof was interesting enough, although the rain severely dampened the experience. I think more people spent time complaining about the weather than taking in the local culture and experience. Do you people realize that taking a trip to Europe is something not everyone does in their lifetime? Instead of griping about the weather which we have no control over, we should do our best to enjoy ourselves. Our concert took place in the Ammergaur Haus near the center of town. This concert was interesting due to a "minor" mishap during the fourth movement of the Tchaikovsky symphony. Percussionist Chris Schmitthenner let a cymbal fly when one of the straps broke. The projectile flew forwards and smacked into principal hornist John Manganaro, then took down his music stand as well. I didn't actually see any of this. I was seated directly front and left, so all I heard was the metallic clash of cymbal on stand. How amusing. And to add to John's bad luck that evening, he took a flying leap off the stairs leading down offstage after the concert. Now that I think about it, the events of that evening were hilariously funny. Poor John! If getting smacked around by ten pounds of metal wasnít enough, doing the flipped turtle routine afterwards even pulled a smatter of applause from the orchestra.
I was going go postal and beat on some people if they didn't stop whining about the rain. I swear, living in cushy ol' california has everyone so soft.
Poor John. He really got it good that night. Flying cymbal. Flying leap off stage. Damaged horn. Doh! But he's the man really...fixed it himself with a pair of pliers later on the tour.
Due to weather conditions, we were unable to make the cable car excursion to Zugspitze, Germanyís highest mountain. Therefore, day seven saw us underground in the salt mines in the morning, and busing to Thalgau, a small town outside of Salzburg, Austria. I must say that minus the cable car ride, the salt mines were fantastic. Riding the little train doodad around inside the caves, tasting some of the saltiest water on the planet (be warned, my face nearly shriveled), riding down fifty or so feet on wooden transport slidesÖthis is what this trip is for! Of course, we ended up in another little town overnight. Is this just a coincidence, or a logistical matter of having nothing for the kids to do after the sun sets? HmmmÖ
Well *duh!* If I was the orchestra conductor I'd make sure all the kids were locked up tight and not doing anything after sunset!
Day eight was one of my personal favorites. On this fourth of July, 1998, we toured the city of Salzburg. We visited Mozart's birthplace, the Mirabel Gardens, and a host of other locations. My fellow clarinetist Tim Haas joined me in our first McDonald's dining experience in Europe. Since I havenít ever seen a triple hamburger here in the United States, I took to opportunity to check out the "McChampion." Tim and I also rummaged around a music store. I didnít manage to find any reeds or mouthpieces or anything I couldnít find in the U.S., but Tim found a recording of the Weber Clarinet Concerto No. 1 featuring Karl Leister (fantastic clarinetist). Perhaps the most significant performance of our trip took place on this day, at the Mozarteum, where amateur groups do not normally perform. The San Diego Civic Youth Orchestra was the second youth orchestra in the history of the Mozarteum to perform in the Grosser Sal ("great hall"). Nowadays I realize that through Civic Youth Orchestra I have had two of the greatest performances of my entire life. Two years ago I was able to perform a solo in the Sydney Opera House, and now to perform in the Mozarteum!?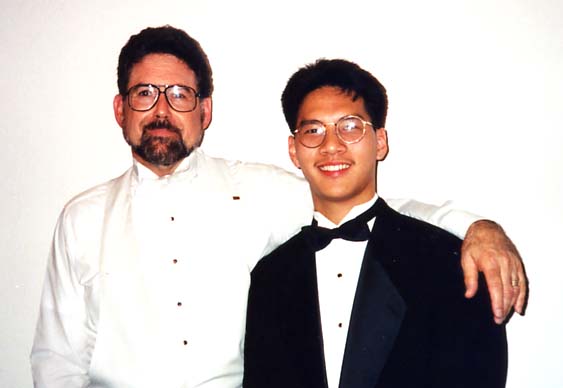 Maestro Gilson and Gene after the Mozarteum concert.
This concert was the defining performance of the tour for me. There's just something special about playing in such a fine hall.
Let's see, what else did I waste my money on that day? I was playing Magic: The Gathering (a stupid card game) on the local socal tournament scene and snatched up a whole bunch of foreign (read: german language) card packs, some for me and some for my best friend Josh, whom I played the game religiously with every weekend. No wonder I was such a dork.
We spent day nine in the bus. I seriously do not remember what happened on this day. I think we spent a lot of time talking to each other on the bus. I do remember one particularly funny event though. In her boredom (I guess) Horn player Marsha Pack started fidgeting around, hanging from the seats in midair in the aisle. I pretended to tickle her and she ended crashing into the floor of the bus. Clarinetist Rick Reyes and I proceeded to laugh at her, and she seriously chewed us out. "I hate you!"
Sorry Marsha. =)
Day ten saw us milling around in Trieste with nothing to do for six hours. Whoop-dee-doo. Now here is what I really donít understand. Here we are, milling around on a Sunday afternoon when everyone is taking a siesta and all the shops are closed! What sort of planning is that? Instead of sitting around talking like we always do, we could have spent five more hours in Venice! I recall that lunch was satisfying, primarily because we only ended up paying four thousand lira for it (which is essentially $2.75 USD), and also because it tasted great. Lily Workman didnít finish her pasta, so I ate the rest of it. Melissa Pina didnít either, so I finished her pasta too. Carbohydrate overload. Iím glad Dan finished his Pasta, or wouldíve been sick. That evening we drove to the seaside town of Portoroz in Slovenia, right on the Adriatic Sea. This hotel was superb. I spent the evening wandering around, hanging out with friends, and watching the moonlight shimmer on the Adriatic.
Dan! That's who I forgot to mention. Dan was a film student at CalArts at the time. Definitely another set of brains I had the good fortune to converse with on the trip. I think we kept each other sane sometimes. Dan, if you ever read this, email me!
Portoroz was awesome. Espresso shots hit really hard. Lots of neat places to see all inside the resort. Should go back sometime in the future...
Day eleven left us with a 12:30pm call time, with lots of free time in the morning to sleep in, walk around and explore Portoroz. Here I managed to exchange a measly three U.S. dollars for nineteen Croatian kuna that allowed me to purchase a fascinating hamburger (fifteen kuna) and postcards (2.5 kuna). That was one great hamburger, I must mention. That left me with 1.5 kuna I ended up carrying around the whole trip unable to spend and eventually brought home as a souvenir. In fact, Iím looking at it in its plastic bag as I write. Oh, Tim scored up like 50 kuna or something that he didnít spend (doh!) and ended up carrying around trying to cash in for other currency until we got to Rome. Way to go dude! Unfortunately, our concert at the ancient Roman Arena in Pula was moved to another location (a fairly nice theatre, nonetheless) due to extremely heavy rain. Fairly good performance, but with the rain the audience wasnít as large as we had hoped.
'Twas a fascinating hamburger, but a really good one, though it really pushed on the definition of "hamburger" as we define it here in the US. Go Tim! He got so much Kuna he was basically broke off his bootay the rest of the trip since no country we went to afterwards except Italy had a place for him to exchange currency.
And I do remember what happened to Tim. He went to Arizona State U. to study with Robert Spring (awesome clarinetist...I mean, like, AWESOME).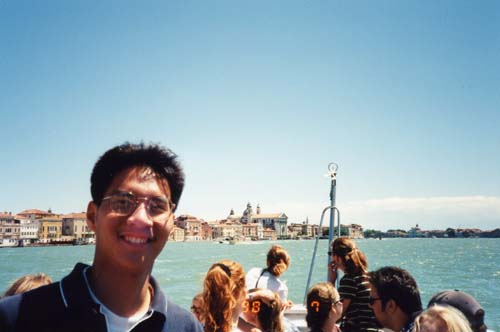 On the little boat to Venice.
Day twelve involved a lot of busing, as well as boat trip in Venice, from the Piazzale Roma to St. Markís Square. On the waterway we passed by (or rather, were passed by) the Grand Princess, the largest cruise ship in the entire world. I have to say, that sucker is massive. We had about an hour to walk around after a tour of the Murano glass factory. Here I bought a nice glass sculpture of a dolphin, blue in color, for my family. It is an exquisite piece of craftsmanship, and Iím glad I brought it home. It was quite a shame that we didnít spend more time there (Venice is simply not a three hour tourist experience). I guess I could complain some more, but letís leave it at this: next time we take a tour, how about spending time in places that actually have stuff to do and have more historical and cultural significance to us tourists? I didnít even have time to check out St. Markís Cathedral in the fifty or so minutes that we actually had to cruise around. That left me disappointed.
Don't buy fake perfume laced rose petal beads. Make a donation in the church instead.
In Florence on day thirteen, we engaged in a massive tour of the city including the Academy Museum, the Duomo, Piazza Signoria, Sante Croce, and many other places. While here we had the opportunity to see Michelangeloís David and the tomb of Rossini. I think some of my best photographs were taken in Florence. On an amusing note, I recall someone saying to the effect "I think weíre lost!" How can we be lost? Just look up. Sure enough, the dome of the Duomo rose high above the buildings, obscuring part of the sky. "Is that where weíre supposed to meet?" Well, probably not, but you can bet that there will be other members of the orchestra around there!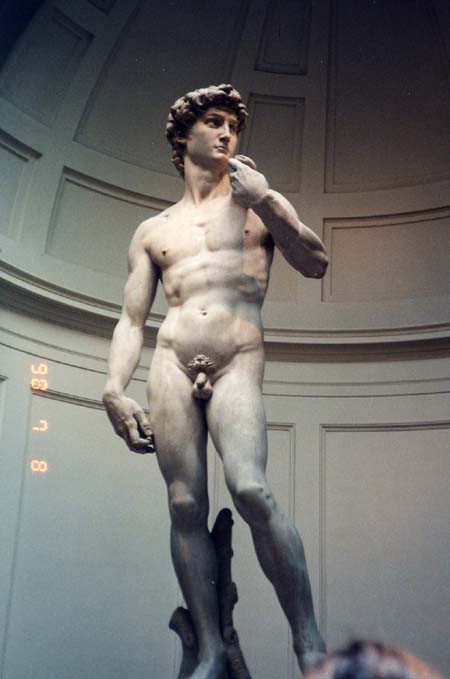 The best photograph I have ever taken! No flash!
Stupid me for being too lazy to take the tour of the art galleries. A bunch of us ended up wandering the streets for a few hours. Oh well, that's the absorbment of culture for ya; a very refreshing change from the very touristy nature of the other sites we had been to.
We spent day fourteen in the bus. Ah yes, another wonderful day in the bus. The seats Tim and I sat in were right next to the door, so they didnít recline as far as the other seats on the bus. I managed to pester Erin (english horn woman!) to let me sit next to her for a bit, but eventually got booted back since so one wanted my seat. Doh.
This trip was all about sitting in a bus, much more so than Australia. I think we went nuts sooner because we were always in contact with one another.
A tour of Rome and the Vatican occupied us on day fifteen. I think the next time I take a tour, Iíll avoid carrying a fully loaded backpack every where I go. Call me weird, but I just donít feel secure without having that snack, cold medicine, jacket, change of clothes, etc. on hand when I know we arenít going to be around lodgings for many hours.Our final tour party took place that night at the Victor Club. Too much red wine = skewed brain activity. I had a glass or two and that was plenty enough to warm up on.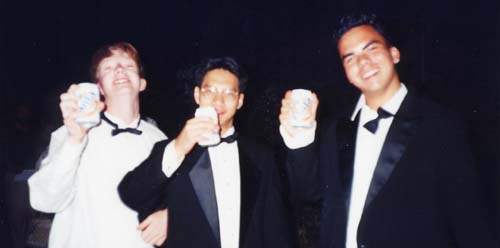 Clarinet players and their FANTA. Tim, Gene, and Rick
In case I forget to mention, we also performed our final concert in front of the Castel St. Angelo.
The party was fun enough...and it was great to hear what everyone had to say about the tour. And about my few words that I added, this is what I remember: "...I'm really proud of the musical dedication brought to our performances by Tim Haas (clarinet), Michael Muna (bassoon), Chrystal Smothers (violin) and many others whom I am forgetting to name...the best eight years of my performances in any musical group have been here with CYO."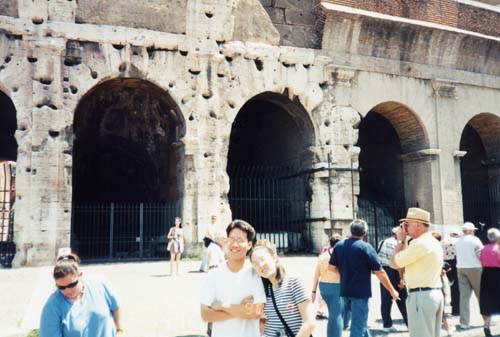 Gene and Jenn at the Colosseo.
Day sixteen was my personal best. We had the whole day free to cruise around Rome. I woke up around eight thirty. Everyone else seemed to have plans and took off, so horn player Marsha Pack and I ended up renting bikes and scooting around the streets of Rome. Actually, we didnít find bikes right away. We rented them at the Piazza Popolo, after having spent over an hour trudging along the streets attempting to find the "Spanish Steps" where some other CYO people said they would see us. Of course, once we picked up some wheels, we also encountered some not-so-joyful drivers that didnít appreciate us riding in the opposite direction of traffic. Darn tourists. And thank goodness for those wonderful fountains! That water is just spectacular. Let me also mention that my clarinet buddy Tim Haas decided to sleep until half past noon. Marsha and I returned to the hotel around three-ish via the hotel shuttle, and decided to go swimming and stuff. I ran into Tim upstairs, where he confirmed the fact that he had enjoyed his major siesta. As for the pool, we all had to wear caps, and I lent mine to some chick who didnít return it to me afterwards (darn, and I paid four thousand lira for it).
This day was great. And I don't want to share any more details...at least not right now. Don't want to make any more fun of Tim than I already have. =)
Day seventeen started off early. Really early. Try 3:00am early. Try having only two hours of sleep early after yesterdayís romp through rome. I was awakened by the sound of Jennifer Kwaiís camera. I think she has a dreadul photograph of me in some zonked out semi-conscious state. I hope no one else ever sees it. The group left on two separate flights again, and I of course ended up being on the second flight again, but at least this was the big group. Sadly, I had to say goodbye a couple friends who left on the first flight and who I still havenít seen to this very day. On the plane I wrote letters to and drew pictures for almost every single person I knew in the group, students, parents, and staff.
And thus my tour, and my time as a member of the San Diego Civic Youth Orchestra ended. Thank you, Mr. Gilson, for everything you have given me and this orchestra in the pursuit of musical excellence. Thank you, Mike, Marsha, Tim, Rick, Erin, Johanna, Jennifer, John, James, Jason, Chrystal, Alan, Melissa, Chelsea, Karen, and everyone who put in their significant emotional and technical talents into making our orchestra sound the way it did. Thanks to all the parent staff and chaperones who had to deal with all of us on this tour. On a final "note" (haha), Iíd like to wish this group my very best for the future. Goodbye now!